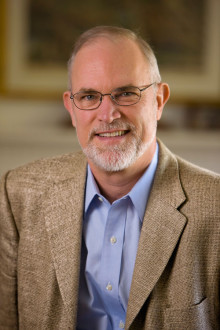 I learned about success the hard way, by struggling with failure for almost ten years after graduating from college.  The son of a celebrated Marine Corps general, I became a pacifist during the Vietnam War era. That literally severed the narrative thread of my life, leading me to a prolonged search during which I traveled overland across the Middle East and Asia seeking the secure anchor I had lost when I broke with my family and its traditions. In the end, I found the answers I was looking for — a story I tell in more detail at the beginning of Springboard.
I joined the Wharton School faculty at the age of 37.  Today, I am the Thomas Gerrity Professor of Legal Studies, Business Ethics, and Management. I am also Chair of the Legal Studies and Business Ethics Department and led the School's most recent innovation process to completely redesign its MBA program.
As a teacher, I have tried to bring my insights into the importance of self-awareness into all of my classes.  For example, in the areas of negotiation and persuasion, I have created simple self-assessments to help people gain insights into how their personalities and emotions affect the way they negotiate and attempt to influence others. These assessments form the foundations for my books on these subjects: Bargaining for Advantage: Negotiation Strategies for Reasonable People (2nd Edition, Penguin 2006) and The Art of Woo: Using Strategic Persuasion to Sell Your Ideas (Penguin/Portfolio 2007) (with Mario Moussa).  In my class on professional responsibility in business for Wharton MBA students, I help students understand how the temptations to behave unethically (and sometimes even illegally) arise and how they can better protect themselves — and their organizations — from becoming the victims of such impulses. As the Academic Director for two Wharton executive education programs: The Executive Negotiation Workshop and the Strategic Persuasion Workshop, I help corporate, government, and nonprofit leaders from around the world to become more effective in their interactions with others.  Finally, in Springboard: Launching Your Personal Search for Success (Penguin/Portfolio 2013) and my associated course on success at Wharton, I present a series of self-assessments and profilers (as well as inspiring stories) to help people articulate their own definitions of the word "success" and determine how to use their own unique talents and strengths to achieve their long-term life goals. Collectively, I have taught thousands of students and executives, and my books have appeared in over 14 languages.
As a consultant, I have advised over 100 business firms, government agencies, and nonprofit organizations.  These include Google, General Electric, select units of the U.S. Special Operations Command, the Crisis Negotiation Unit of the Federal Bureau of Investigation, as well as major universities, hospitals, and foundations.
As a scholar, I publish regularly on the subjects of success, negotiation, dispute resolution, and strategy in leading journals. My opinion articles on current issues and events have appeared in such publications as Wall Street Journal, the New York Times, the Boston Globe, and the Philadelphia Inquirer.
I have two grown sons, each of whom is pursuing his own unique vision of success, and am married to a wonderful woman (and college classmate) I first met at a Grateful Dead concert over 40 years ago.